Horsham Piano Centre
Horsham Piano Centre is a family run business established 43 years ago. Set in the heart of the beautiful county of Sussex, we serve the south and south east of England.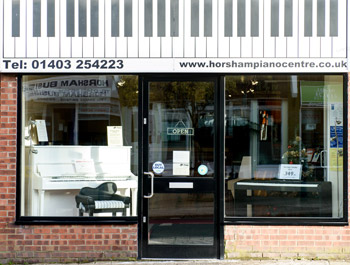 We are committed to providing the best service we can to all of our existing and new customers, the vast majority of which come from recommendations, either from previous customers or piano tuners or teachers. We are technicians and piano enthusiasts, not salesmen, so there is a friendly, relaxed atmosphere within the shop, where you can browse at your leisure.
Although the shop has a small frontage it opens out to a large showroom which allows us to stock 50 pianos and also house our fully equipped workshops and a teaching room.
Our opening hours are Wednesday to Saturday 9.30am – 5.00pm, but please call prior to coming into the shop as there are times when we will be out for awkward deliveries or removals during these times.
We can also book 'out of hours' appointments please call to arrange on 01403 254223.
Whatever your piano requirements, we can help you.
Kind regards
HORSHAM PIANO CENTRE