Horsham Piano Centre
Horsham Piano Centre is a family run business established 40 years ago. Set in the heart of the beautiful county of Sussex, we serve the south and south east of England.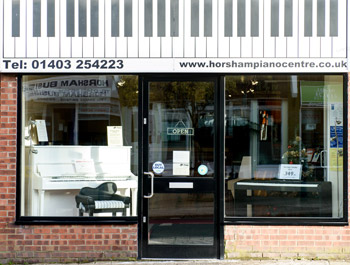 We are committed to providing the best service we can to all of our existing and new customers, the vast majority of which come from recommendations, either from previous customers or piano tuners or teachers. We are technicians and piano enthusiasts, not salesmen, so there is a friendly, relaxed atmosphere within the shop, where you can browse at your leisure.
Although the shop has a small frontage it opens out to a large showroom which allows us to stock 50 pianos and also house our fully equipped workshops and a teaching room.
Whatever your piano requirements, we can help you.
COVID-19 Update
30th March 2020
Further to the current situation the shop will remain closed until such time as the Government restrictions are lifted.
As soon as the enforced closure is lifted we will be able to supply pianos once more and will also be able to quote for repair and restoration work.
We will have access to email in the meantime with any queries that you may have regarding sales or restoration work.
We thank you for your understanding with these difficult times.
Kind regards
HORSHAM PIANO CENTRE
If this situation changes we will keep you informed.